Alaskan malamute
Our new website address is:

Puppies for sale will be From 18 August
Our puppies are already a month old (tikai mēnisi veci)
18.06.2010. piedzima brīnišķīgi Aļaskas malamutu kucēni, 5 meitenes un 2 puikas. Ja Jums ir interese par kucēniem, piedāvāju sekot līdzi viņu attīstībai mūsu mājas lapā www.ridaldundaga.jimdo.com.
Augusta mēneša otrajā pusē kucēni gaidīs savus jaunos saimniekus, kuri patiesi vēlētos veltīt laiku mazuļiem, kuru mīlestība un uzticēšanās cilvēkam patiesi ir
apbrīnojama. Ja Jums ir patiesa interese iegūt savā īpašumā suni, kurš ir cilvēkiem un maziem bērniem draudzīgs, kurš ir īstens cilvēka kompanjons un uzticams draugs, zvaniet vai atbrauciet aplūkot, kā tad īsti dzīvo malamuti Dundagā.
06/18/2010. родились прекрасные щенки Аляскинских маламутов, пять девочек и два мальчика. Если вы заинтересованы в приобретении или просто в развитии наших щенков, я предлагаю посетить наш сайт www.ridaldundaga.jimdo.com
 Со второй половины августа месяца щенки будут ждать своих новых владельцев, людей, которые хотят посвятить время для щенков, чья любовь и доверие к людям поистине достойна восхищения.
Если у вас неподдельный интерес к приобретению собаки, которая является реальным спутником человека и верным его другом, звоните нам или приезжайте посмотреть, как на самом деле живут маламуты в Дундаге.
06/18/2010 in Dundaga, Latvia had born the wonderful Alaskan malamute puppies, five girls and two boys. If you are interested in to our puppies, you can follow their progress on our website http://www.ridaldundaga.jimdo.com The puppies will wait for their new owners in the second half of August. People, who really want to spend time for puppies, whose love and trust in people is truly admirable. If you have an interest to buy a dog, who is very friendly with people and children, which is a real human companion and trusted friend, call us or come to us, to look at Alaskan malamute, who lives in Dundaga, Latvia.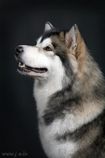 Ja vēlaties iegūt informāciju par maniem malamutiem varat rakstīt: dege@cii.lv  vai zvanīt +371-29232996.
  For more information, please contact us by sending an email to
Gunta Dege:  dege@cii.lv or by calling +37129232996.
 Более подробная информация о моих маламутов по э-почте:
dege@cii.lv или телефону +371-29232996.